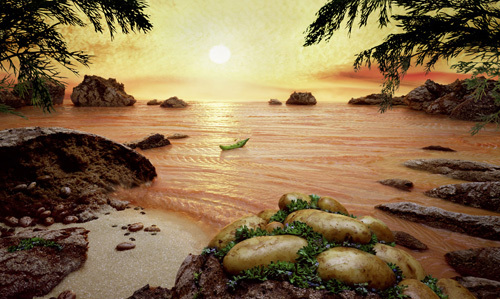 An Artist's World of Foodscapes
By: Hope Wilkos, Writer/Blogger
Photos: www.moillusions.com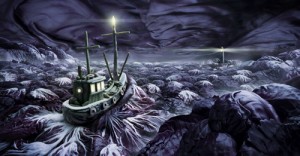 No two artists are ever viewed the same. Creativity is all within the eyes of the beholder. Artist Carl Warner begins with the grocery store as his palette and sees art blossom in broccoli, cabbage, squash, baked potatoes and salmon.
His photographs may look like your ordinary landscapes with ships headed out to sea or waterfall scenes amongst a forest of green trees and huge boulders but the secret behind the portrait is food.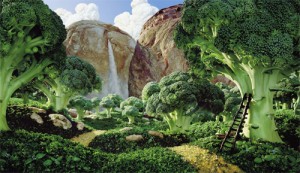 Seas and storms are made of cabbage, trees are broccoli and hills are baked potatoes. Warner who completes his portraits of foodscapes in London, may take up to eight hours to make his ideas come to life. A piece of cardboard goes from empty to each vegetable being placed in a strategic location and coming to life through imagination and perfect placement. The trick is in the timing. Food spoils and wilts quickly under the lights and so the idea must be formulated ahead of time.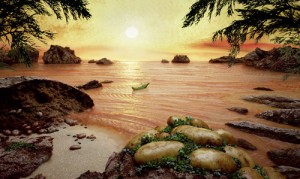 Many advertising agencies throughout Europe have commissioned Warner to produce his distinctive images for clients in the food industry. His individual style grabs their attention. Each scene is photographed in layers from foreground to background.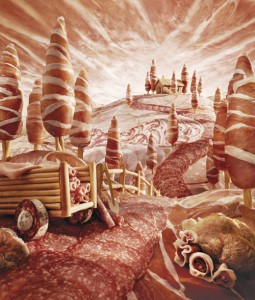 Many of Warner's followers that view his work on display, look at the scenes and in the lighthouse they see a place that they remember visiting or a cobblestone street leads into a town in a far-off village from their youth.
Carl Warner stands out for his ingenuity and resourcefulness and has made his mark on the world of art.